Click on any thumbnail below to see a larger version of the picture
"Girl in Open Blouse"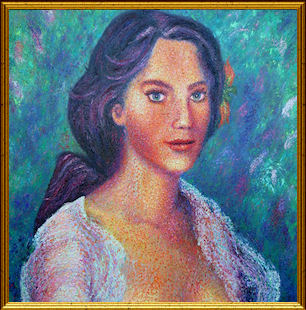 This painting was totally inspired by Renoir's paintings of women with open blouses,
I wanted to do an updated version with a contemporary model.
Alert individuals will notice that the size of this painting (listed at the bottom
of this page) indicate the painting is much longer than wide.
I made the decision to not show a nude upper torso on this website.
Above left, low resolution Above right, high resolution
This close-up best shows the layers of paint - applied with a palette knife.
Above left, low resolution Above right, high resolut
Below - The final painting (upper half)
Above left, low resolution Above right, high resolution