"Homage to Monet"
At the Monet exhibit in San Francisco (Monet in Normandy) , I was particularly inspired
by his "Valley of the Creuse" , and tried to capture some of its essence in this painting.
Below is the final painting
Click on the picture to see the large size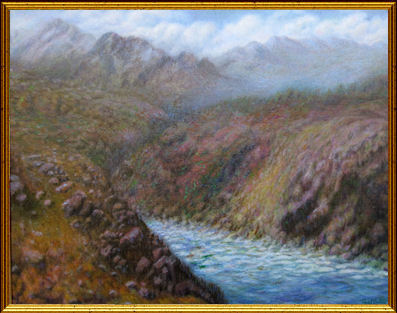 After completing Impressionist Isle One and two, I decided to take sketches of
the California Sierras and try to get even closer to Monet's style and colors.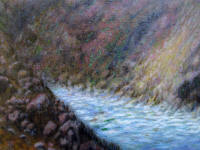 I enjoyed piling color on top of color, layer after layer of turquoises, yellow-greens, reds and purples.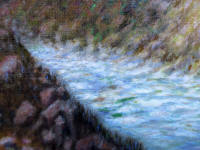 Unlike Monet, I used very thin paint on the canvas. This was only an experiment.
Later, I would like to paint a larger work with thick layers of paint.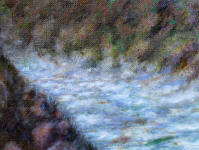 Above is a detail showing the layers of color.
Below is the final painting.
Above left, low resolution Above right, high resolution