Click on any thumbnail below to see a larger version of the picture
"Rio Del Mar" - A study in triangles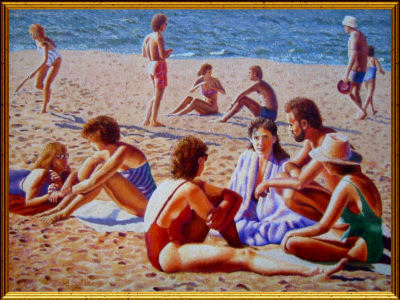 Rio Del Mar is a beach in northern California, just south of Santa Cruz. While sketching and taking photos, I was struck by the groupings of people. There were families under umbrellas, frisbee throwers, paddle ball players, and clusters of sunbathers.
Everyone was leaning and I kept seeing triangular groupings, so I decided to do a painting which would be a study of triangles. Take away the woman in the top left of the painting (with the paddle) and also the frisbee player and girl in the top right of the painting and you will be left with a triangular composition of sunbathers.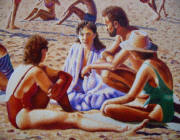 The main character (point of interest) of the painting is triangularly draped in an angelic towel in a group of people that form yet another triangle. Her purple/blue towel is complemented by the yellow/oranges of the sand and sunbathers. Complementary red and green bathing suits flank her.
Click on the thumbnail picture and look at the larger version. How many more smaller triangles can you pick out? The elbows and knees are natural places to produce angular shapes.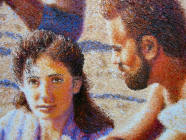 The main subject of the painting is Debra. She is partially Debra and (as are all people I paint) partially self-portrait. I'm never concerned with capturing a likeness of people. I am more interested in how they reflect light and what is in their eyes.
Here, I have shaped her nose, forehead and chin to fit the theme of the painting. Only her eyes and mouth retain the mood. No one else is allowed to look out at the viewer.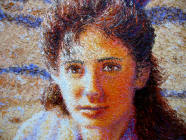 Click on the thumbnail above to see a closeup of the painting. The paint is thick from application with a palette knife. No brushes were used. Many layers of paint produce transparent as well as opaque color.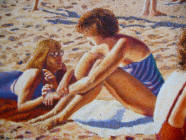 The secondary subjects are purposely faceless. The story to be told is in the fingers, arms and legs of the women. Long shadows produced late in the day help complement the subjects. Sunglasses connect the two in conversation without competing with the piercing eyes of the primary subject.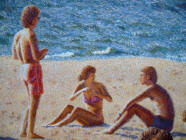 The tertiary subjects are spaced a little farther apart from one another to again not compete with the focal point of the painting. Since they're far enough away, I could give the woman more expression.

The only dynamic entity is the paddleball player. At the top left of the painting, I placed stripes on her bathing suit and long shadows in the sand that lead back to the primary interest (see the full painting).