Click on any thumbnail below to see a larger version of the picture
"Street People" - Traffic at Union Square, San Francisco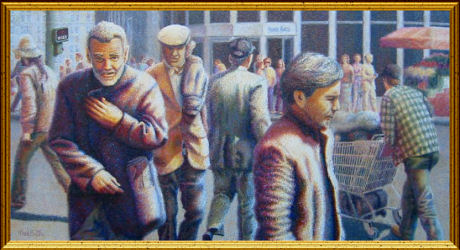 Union Square in San Francisco is one of my favorite places to visit. In addition to art shows and various other gatherings, it's just a great place to people-watch. The Square is surrounded by upscale stores and hotels. On one of my sketching and photo taking days, I was struck by the number of "street" people mixed in with the more privileged shoppers.
I decided to take a little time to ponder the contrast of the less privileged and the elite. This was not the warmest day in San Francisco, but the down-and-out seemed to wear a lot more clothing - hats, many layers of garments, and heavy, warm coats. Of course, their attire was worn and untidy, and certainly not the colorful matching fashions of the more fortunate.
The painting that emerged took quite a few directions. One of my rules that I generally follow is to only allow eye contact with the main subject. Since little or no eye contact seemed to be an attribute that the homeless as well as the advantaged shared, I began by painting the street people with their heads down and bodies bent over, and the shoppers erect and self-confident.
Eventually, I moved all of the shoppers to the sidewalk in front of Neiman Marcus (in the background) and filled the street with the more destitute. While the more fashionable waited at the curb for the light to change allowing them to cross, the poorer folks charged into the 'street'.
This was also a challenge to paint with bright colors and pure hues. When I first sketched the street people, they looked as stylish and colorful as the shoppers. But by mashing the colors into the canvas while the paint was still wet, the hues of the primary subjects became 'grayed' down. The 'shoppers' blend in with the floral cart.
I prefer having at least three interesting subjects in my paintings, but it's always a challenge to position them. Since this painting is long horizontally, the viewer will most likely read from left to right and fairly quickly find the primary subject.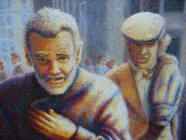 Just behind him is the secondary interest. With his hair, beret and "snappy" look, he actually has more to examine than the main character. However, allowing the main personality to open his eyes and stare at the viewer demands that we scrutinize him and ponder his world.

While the missing teeth hint his misfortune, one can only contemplate his life story.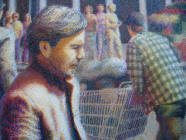 The long earlobes of the tertiary subject (man in the red jacket) point to his chin and together with his slightly flattened nose form an arrowhead pointing down and out. The viewer is then free to go back and look around the painting again.
In addition to depicting wear, the massive wrinkles of his sleeves point back to the arms and hands of the main subject to complete the circle of viewing.